Bridging the Gap
chinafrica 2019-05-21 09:09:53
The Maputo-Katembe Suspension Bridge opens up opportunities for economic development in Mozambique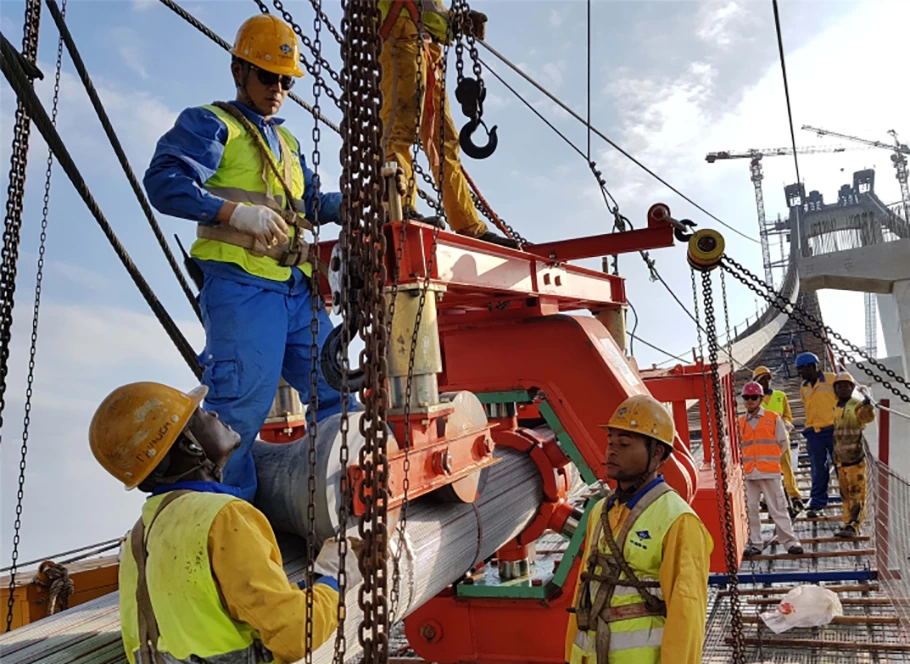 Ângela Mahumane feels much more relieved now. A new bridge has reduced her daily commuting time to school in Maputo, capital of Mozambique, across the Maputo Bay from Katembe, an outlying urban district on the other side of the bay, from previously over one hour by ferry to just five minutes by bus.
The new bridge Mahumane mentioned is the Maputo-Katembe Suspension Bridge. With construction by China Road and Bridge Corp. (CRBC) beginning in 2014, the bridge was officially opened on November 10 last year. In addition to the bridge, the project also includes a road network linking Katembe, the tourism hotspot of Ponta do Ouro, and Kosy Bay on the southern border with South Africa.
More than 3 km long and with a 680-meter deck, it is the longest twin-tower suspension bridge on the African continent, and has a lifespan of at least 100 years, according to the information from CRBC. The bridge was in fact first planned in 1989 to improve Mozambique's transportation network. However, the start of its construction was delayed when civil unrest broke out in the country. Though relaunched in 2008, the project failed again until it was given a firm commitment when the Chinese company stepped in in 2011.
"The completion of the bridge and the surrounding road network has now made it possible to achieve the aspirations of the Mozambican people," said Filipe Jacinto Nyusi, President of Mozambique, at the project's inauguration ceremony. "This will help promote the development of tourism, logistics and other industries, supporting national economic growth and regional integration."
Chinese standards
As a result of the Belt and Road Initiative's recognition by an increasing number of countries around the world, more and more Chinese companies are going abroad and launching cooperation with their foreign counterparts. For them, funding remains a key factor to their success. The Maputo-Katembe Suspension Bridge was no exception. According to CRBC, the entire project cost a total of $785 million, of which 95 percent was provided through credit by the Export-Import Bank of China and the rest by the Government of Mozambique. Medium-and-long-term credit insurance was provided by China Export and Credit Insurance Corp.
"The project combined a design based on Chinese standards, a cross-checking process based on European and South African standards and construction that was completed according to Chinese standards," Wang Lijun, CRBC Vice President, explained to ChinAfrica.
To this end, Chinese technical standards had to be converted and adapted to Mozambican standards. "It was therefore necessary for us to cooperate with a third party," added Wang.
Before and during construction, the German consulting firm GAUFF Engineering was put in charge of the evaluation, supervision and quality control of the project.
"During the entire process, we also hired one of the best Chinese design teams. Thanks to the fruitful cooperation between Chinese and foreign experts, a platform was put in place to fully meet Mozambique's standards," said Wang.
Safety was also a major priority during construction. The project team included both Chinese and German managers and engineers specialized in security issues. Project supervision was based on European safety standards and local labor legislation, and the construction followed strict environmental safety standards.
"In fact, GAUFF Engineering played a very important role as one of our internal regulators, and provided a very good guarantee for our safety," said Wang. The result was that no work accidents were reported during the entire construction process, according to CRBC.
"This project is another example of how Chinese technology, standards, experience and capacity can effectively be applied worldwide. We are pleased to see that this construction project based on Chinese standards will support economic development abroad," he added.
Development engine
Although Katembe is part of Maputo City, the physical separation between the two caused enormous inconvenience to local residents. Compared to its neighbor on the north, Katembe remains underdeveloped. Local communities hope the new bridge will remove the hurdles and put an end to this situation. According to Cao Changwei, Project Director in charge of the bridge and northern road network project, the Mozambican Government has drafted development plans covering the entire region, including ports and industrial parks, to attract foreign investment.
In addition, land lots have been set aside for residential buildings to address the problem of growing population pressure in central Maputo, which suffers from overpopulation and uncontrolled urban growth. The new district will be built gradually over a 30-year period and will eventually accommodate approximately 400,000 residents. This is a major change when considering that