Expanding Business:Fifty Chinese companies to set up shops in Kenya this year
chinafrica 2019-05-18 09:13:04
Yusuf Mohamed, a 45-year-old resident of Nairobi, has been a consumer of Chinese products and services for more than a decade. Chinese electronics, food and beer are all favorites in Mohamed's life.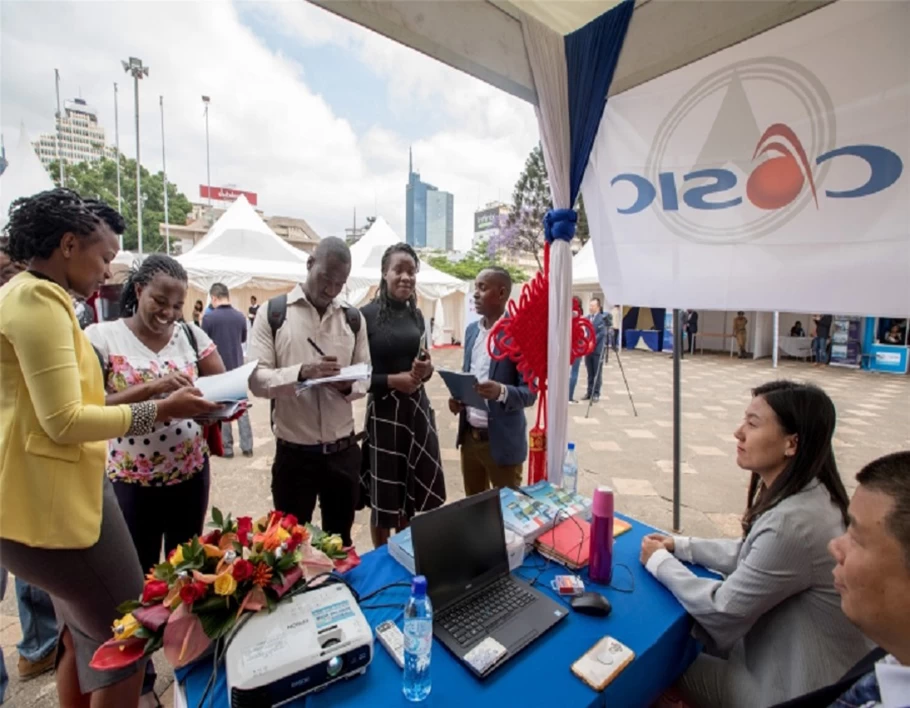 He is just one of a growing number of Kenyans who rely on Chinese goods and services.
In line with the growing demand, 50 more Chinese companies are setting up operations in Kenya before the end of 2019.
"I will be happy when that happens. I love Chinese products. My favorite phone handset [brand] is Huawei with its many features including a three-SIM-card slot and facial recognition," said Mohamed, who has traveled to China on four occasions. "While there are people who push the myth that everything from China is fake, I think it is a perception based on ignorance."
These 50 new companies will operate in Nairobi and Mombasa, as well as in some rural areas.
Job opportunities
Kenya's Cabinet Secretary for the Ministry of Industry, Trade and Cooperatives Peter Munya confirmed the news of the Chinese companies coming to Kenya for investment in February in Nairobi.
"Yes, 50 [Chinese] companies will have been fully registered in Kenya this year by December and be fully operational. This will be in addition to over 400 Chinese companies that already have their presence in Kenya, said Munya. "Most of the current companies from China are in the construction industry.
However, the new Chinese businesse cover a variety of sectors apart from construction and are mainly small- and medium-size companies. According to Munya, they range from manufacturing to banking and hotel industry. The latter augers well for the Chinese tourists visiting Kenya every year, which is now about 100,000, according to the Ministry of Tourism and Wildlife of Kenya. This is 10 percent of the total number of international tourists visiting the country.
One of the big-name companies to invest in Kenya is Yanjing Brewery, the maker of Yanjing Beer, which ranks first in total output and profit in China's beer industry, according to the company's website. In the bottled water and soft drinks market, the Master Kong brand is also heading for Kenya.
Kenya's corporate tax base will rise by an additional $200 million per year from the 50 investors, which is a good boost to the country's economy, said Munya.
"In addition, numerous jobs will be available by the end of this year. Over 500,000 indirect jobs will be created each [subsequent] year in the Kenyan economy. I can say that there is a positive outlook that [has] come with political stability during the last year," he added.
While acknowledging that some challenges still need to be addressed, Munya said that the cost to investors of doing business is improving.
According to him, some of these challenges include high corporate tax, standing at 30 percent according to the Kenya Revenue Authority, for which a new framework is being worked out. More improvements also need to be made to reduce the cost of energy, despite a more-than-10-percent reduction having already been put in place.
Investment challenges
According to the World Bank, the highest Chinese investments in East Africa are based in Kenya. Kenya's GDP in 2017 stood at $79.8 billion, larger than that of Uganda and Tanzania combined.
Professor Germano Mwabu, World Bank Consultant Economist for Africa, estimates that a total of over $6 billion would be invested in Kenya before the end of the year. He said manufacturing contributes to about 19 percent of Kenya's GDP and it costs a lot of money to put up infrastructure and create jobs in the manufacturing sector.
"Also, a large number of Chinese reside in Kenya, so it [manufacturing Chinese goods] is an advantage [to this expat population]," said Mwabu.
Mining is also important to the Kenyan economy with coal and titanium taking the lead, added Mwabu.
According to the Kenya National Chamber of Commerce and Industry, as the country has an approved tourism destination status in China, Chinese investment in the service industry, including hotels, is increasing rapidly.
"Tourism has been growing in the last years, with average figures reaching 1 million foreign tourists per year despite obstacles such as political instability," said Chris Wamalwa, Kenyan Member of Parliament. He said Kenya has a lot of potential related to foreign direct investment, but new laws need to be put in place to make the country more investor-friendly.
"We have a lot of foreign multinationals, creating much employment and revenue for the government. But we still need to amend the current laws and create new ones to boost confidence in investments. By mid-year, we will enact new laws that will allow a better environment for foreign direct Investment," said Wamalwa.
He believes these laws will focus on lowering corporate tax and the high cost of energy, including fuel and electricity.
In addition, Wamalwa said, a business application should be approved by the government within 21 hours as per the law, and companies should not have to wait for more than three weeks to become fully operational. Graft is also a factor hampering investment.
"As a country, we welcome investors as they create employment and it is encouraging that many Chinese investors have a lot of confidence in our country. We need to work on immediate challenges and the biggest challenge right now is corruption. We cannot eradicate corruption completely, but we can reduce it dramatically," said Wamalwa.
He said that he also hopes more Kenyans can invest in China in the future and increase the current exports of $125 million per year to China, quoting figures from the Kenya National Chamber of Trade and Industry.
Setting an example
Kenya is a good partner and China will continue its efforts to further strengthen the Sino-Kenyan partnership, Li Xuhang, Charge d'Affaires of Chinese Embassy in Kenya, told Xinhua News Agency in November last year. Li said the partnership ensured that the bilateral cooperation will usher in a new era of vigorous development and continue to be an example for China-Africa cooperation.
China will increase efforts on policy coordination with Kenya, said Li, and accelerate the alignment of the Belt and Road Initiative with Kenya's national development blueprint Vision 2030 and President Uhuru Kenyatta's development blueprint, known locally as the Big Four Agenda.
Li also said, to further improve Sino-Kenyan economic and trade cooperation, the Kenyan Government and business community should consider introducing supplementary incentives and policies and take firm measures to construct a safer and more convenient environment for international investors.
Kenya's police spokesperson Charles Owino said crime in the country has reduced as many security measures have been undertaken to ensure the safety of all people.
(Comments to niyanshuo@chinafrica.cn)
(Reporting from Kenya)