2017 Russian economic house design prefabricated house supplier
1.Overall weight:50~60kg/sqm
2.Seismic fortification intensity:8 grade
3.Wind-proof capacity:wind speed 20m/s, resist 8 grade wind
4.Floor loading capacity:150kg/sqm
5.Roof loading capacity:60kg/sqm
6.External wall bearing capacity:50kg/sqm
2017 Russian economic house design prefabricated house supplier
Russian economic house,economic house design,prefabricated house supplier
PRODUCT PHOTO
Product Description
High quality and comfortable prefab house
Material:
Wall: 50mm/75mm/100mm thick EPS/Rockwool/PU sandwich panel
Roof: 50mm/75mm/100mm thick EPS/Rockwool/PU corrugated sandwich panel
Window: PVC or Aluminum sliding window
Door: aluminum frame with panel same as wall panel
Our Advantage:
1.Low cost: Low labour and material costs.
2.Novel design: Beuatiful and meet customer's requirement.
3.Recycling use: Reused for more than 5 times.
4.Long life-span: 15-20 years.
5.Easy to install: 6 workers can finish 300sqm in 2 days.
6.Comfortable: Suitable for living.
7.Lightness: Easy to transport and relocate.
8.Environment protection: Environment-friendly materails.
9.Safe and stable: Fireproof,waterproof,quakeproof and windproof.
10.Use widely: House,office,warehouse,workshop,carport,shop.
11.Easy packing: 320sqm can be loaded in a 40'HQ.

Technical Parameters:
1.Overall weight:50~60kg/sqm
2.Seismic fortification intensity:8 grade
3.Wind-proof capacity:wind speed 20m/s, resist 8 grade wind
4.Floor loading capacity:150kg/sqm
5.Roof loading capacity:60kg/sqm
6.External wall bearing capacity:50kg/sqm
Product detail
Packaging & Shipping
Delivery by 40'HQ shipping container by bulk packing in general .
Packaging

Mixed packaging:roof frame and bottom frame will be packed together with bolts;all the wall panels packed together with wooden pallet in the bottom,corrugated board on the surface,and XPS board in the interspace. And it will be shipped in 40' container .

Unloading

40 feet ocean freight container:

A: Take out the small packages.

B: Use folk lift to take out the wall panel packages.

C: Grapple the corner on bottom side of the container house and drage the package out,remain about 50cm in the shipping container.

D: Use folk lift to lift the container package in the middle and move it out of the shipping container.

E: Put the package on ground sidewise, use wooden pad if it's flatwise.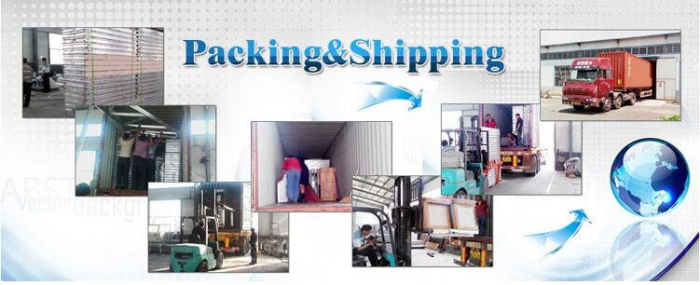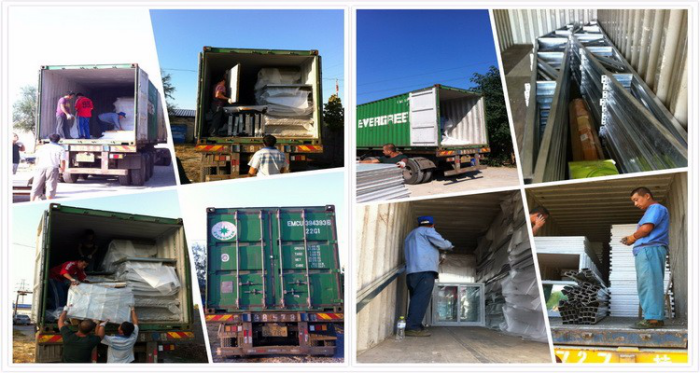 Our Service
A. Professional design and engineering team: Full solution for steel structure design.
B. Procurement and Manufacture for all material for prefabricated building. We have a professional procurement team to make sure all the materials are with good quality. And our factory operation under ISO/CE/SGS standard, to make sure the fabrication works with high technology.
C.Site management & Installation supervision, We could send our engineers to help for the installation supervision, you just need to prepare a team which know normal construction works will be O.K.
1.OEM services
2.Professional design
3.A timely quotation
4.Delivery within 10 workdays
Company information
Our Heya International Trade Co.,Ltd.(Heya Group) is one of the largest manufacturers of the prefabricated house,flat pack container house,steel villas, and steel structure warehouse in China. We have been doing well in this field for more than 21 years,and we have exported our products to more than 90 countries as well as our domestic market with ISO9001,CE and SGS approval.Heya Group is a supplier of the series products for the country's key projects,such as the Olympic Sailing Center,bay bridge of Jiaozhou Gulf,Qingdao cross sea tunnel,etc.

Factory
Our client
For client's information:

It will be very much helpful if clients can provide the following information:

A.

Design drawing or layout plan if you have.

B.

The dimension:length,width,height,windows and doors dimensions,etc.

C.

The function of building,and if need,the interior equipment etc.

D.

The class of building:one,two or three story.

E.

Specialrequirement on function:such as water system,electricity installation, or other requirements etc.
Shandong Heya Integrated Housing Co., Ltd.
Tel:
Ansprechpartner:
Andere Produkte